Marketing Dashboard
The Marketing Dashboard is accessed by selecting Marketing then Dashboard from the main menu, on the left-hand side of your screen.
One of the first things you'll want to do is to create an email. You can design your own emails or use one of our layout templates. Having created an email you'll need to set up a Campaign to manage your mailing and to add in the contacts you wish to mail. The final stage is to schedule your email and send it.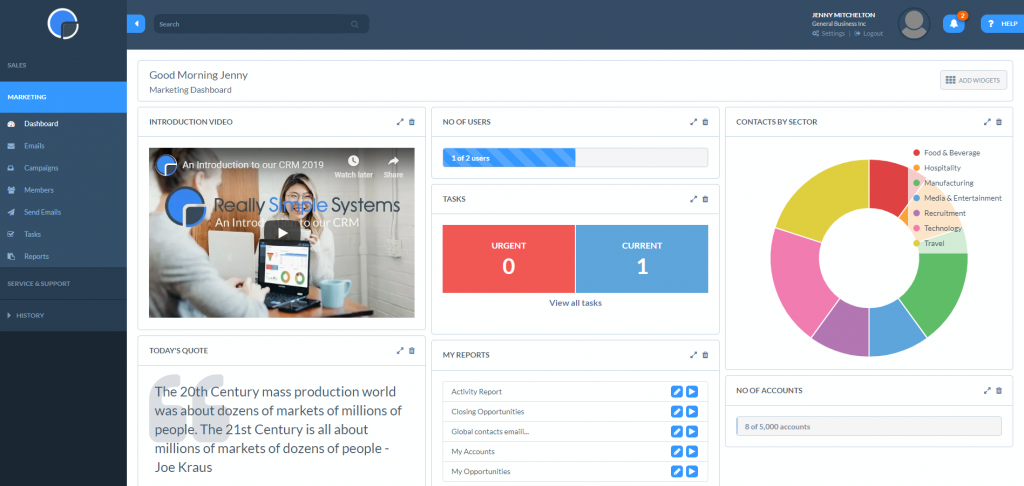 Dashboard Widgets
You can create your own custom dashboard by adding, editing and deleting the widgets to suit your business needs. Click on the Add Widgets button in the right-hand corner of the screen.. Select the ones you want to use so you can see all the data that's important to your business on one screen. You can select widgets from both the Marketing and Sales dashboards.

New Leads
The New Leads grid shows you all the Leads that have been created in the last 30 days. To mark an Account as a Lead, open the Account and update the Campaign field, choosing from a dropdown list of your campaigns.

Emailing Stats
These statistics will show you your Sender Reputation and your Hourly Quota, the number of emails that you can send every hour. Your Hourly Quota will depend upon your Sender Reputation. A bad Sender Reputation (anything less than 40%) will restrict you to around 250 emails per hour. A good Sender Reputation (80% or over) will allow you to send 2,000 or more emails per hour.
The Sent, Bounces, Complaints, Unsubscribes, Opens and Clicks give you the total stats across all your emailing campaigns.