Your CRM Settings
The Settings tab on your CRM groups together all the Administrator functions that control your subscription, data, users, customisations and integrations. The sections include:
Subscription

Manage Subscription: Manage your subscription plan, invoicing, and upgrade options
Subscription Agreement: View the full CRM subscription agreement with Really Simple Systems
Email Sending Policy: Customers using our Marketing solution must comply with our Email Sending Policy
System Settings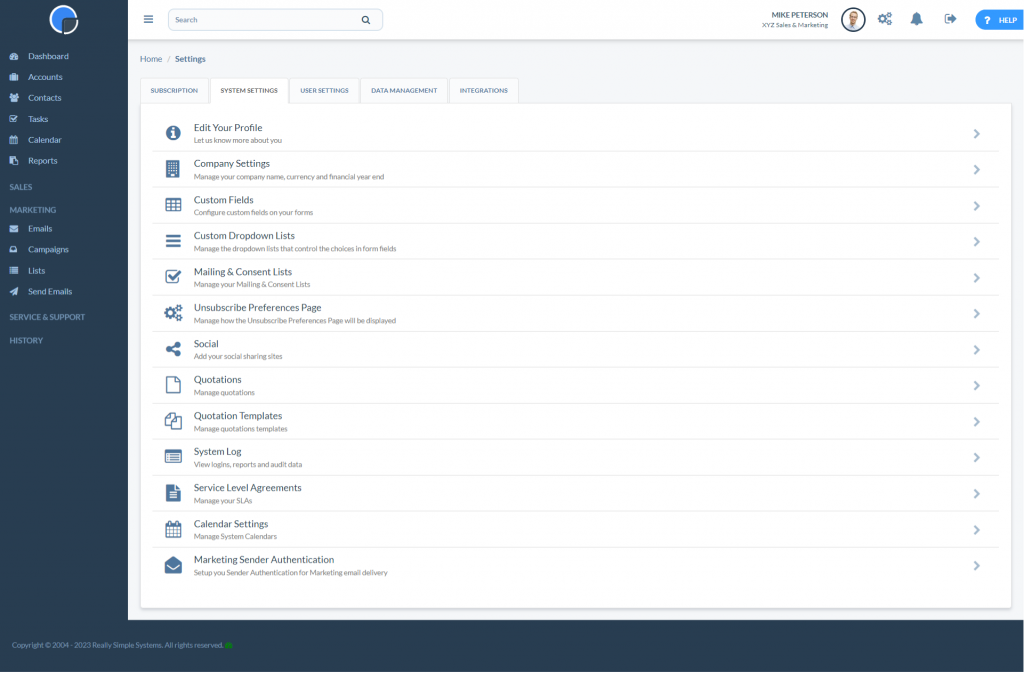 Edit your Profile: Your personal information
Company Settings: Manage your company name, currency, financial year and time zone
Custom Fields: Customise the tables and grids in your CRM
Custom Dropdown Lists: Customise the dropdown lists, or Look Up Tables, that control the choices in your data fields
Mailing & Consent Lists: This feature enables compliance with international data protection legislation
Unsubscribe Preferences Page: The web page your customers access when they manage their mailing preferences from your email or to unsubscribe.
Social: Your social media links
Quotations: Manage your customer quotations
Quotation Templates: Manage and edit your Quotation Templates
System Log: View system logins, reports and audit data
Service Level Agreements: Manage your customer Service Level Agreements, (Service & Support tool only)
Calendar Settings: Set up a calendar in your CRM.
Marketing Sender Authentication: Generate CNAME records for your DNS.
User Settings

Edit Your Details: Edit your user name, email address, password etc.
User Management: Add and edit system users, access levels and manage user passwords
Change Password: Send a password reset message to your own email address
User Profiles: Create and modify the user profiles that control security, formatting and session timeout periods (Enterprise plan only)
User Groups: Create and modify the groups that your users belong to (Enterprise plan only)
Data Management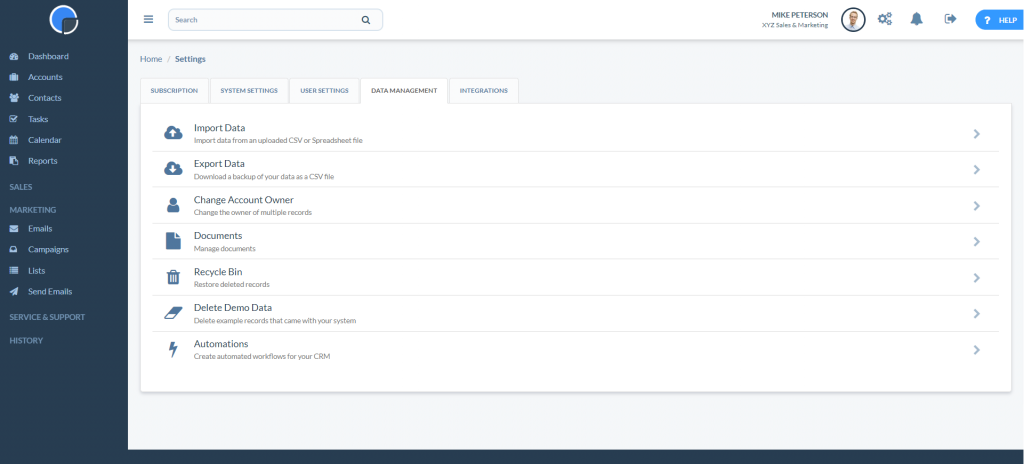 Import Data: Import data from an uploaded CSV file of spreadsheet
Export Data: Download a data backup to a CSV file
Change Account Owner: Change the "owner" of multiple CRM records.
Documents: View and manage the documents you have stored in the CRM
Recycle Bin: use the recycle bin to restore deleted data
Delete Demo Data: Delete the demo data that initially comes with your CRM.
Automations: Create automated workflows in your CRM.
Integrations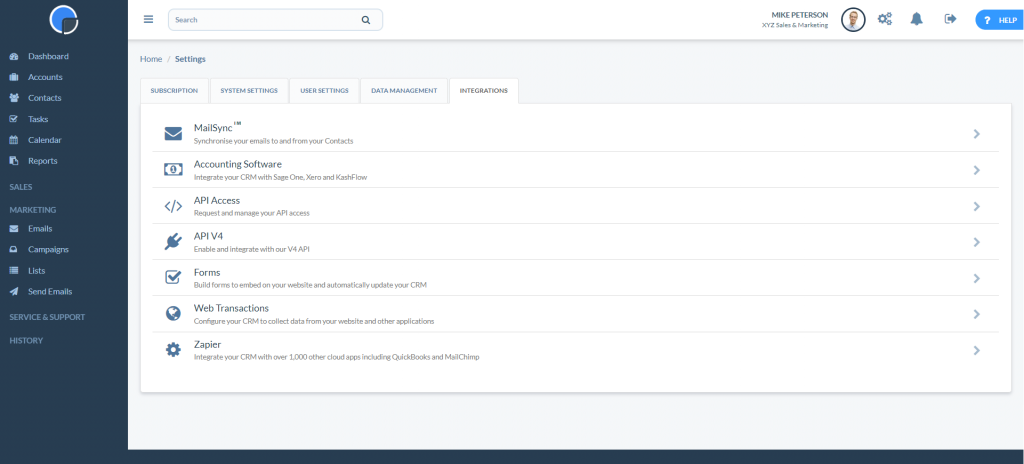 MailSync™: Automatically capture your emails to and from your contacts to your CRM.
Accounting Software: Integrate your CRM system with external accounting software systems.
API Access: Request and manage your API access to integrate other systems you use.
API V4: Enable access to our API V4.
Single Sign-on: Integrate your CRM with OneLogin or Microsoft Azure to set up policy-based access control
Forms: Capture new leads online and add them automatically to your CRM
Web Transactions: Configure your CRM to collect data from your website and other applications (Marketing and Service & Support tools only)
Zapier: Connect Really Simple Systems to thousands of other applications.