Mailing & Consent Lists allow you to record Consents from the Contacts in your Marketing database.
The feature enables compliance with international data protection legislation, including the EU's General Data Protection Regulation (GDPR).
You might also use them to maintain multiple mailing lists and segment your contacts into different areas of interest. For example, you could have one List that records your contacts who have given general consent, or have multiple Lists for emailing, SMS and telephone calls. Similarly, you could have multiple Lists for each of your product/service groups.
To view your Mailing & Consent Lists go to Settings then System Settings.

Click on Mailing & Consent Lists and you'll see there is a default List called 'Newsletters'.

You can add contacts to the list(s) automatically using WebTransactions (see Web-to-Lead Forms) or you can add them manually from the contact record.
Please note, that whilst you'll be able to add consents manually with the Simple Marketing module, you will need Advanced Marketing to capture consents from your web site.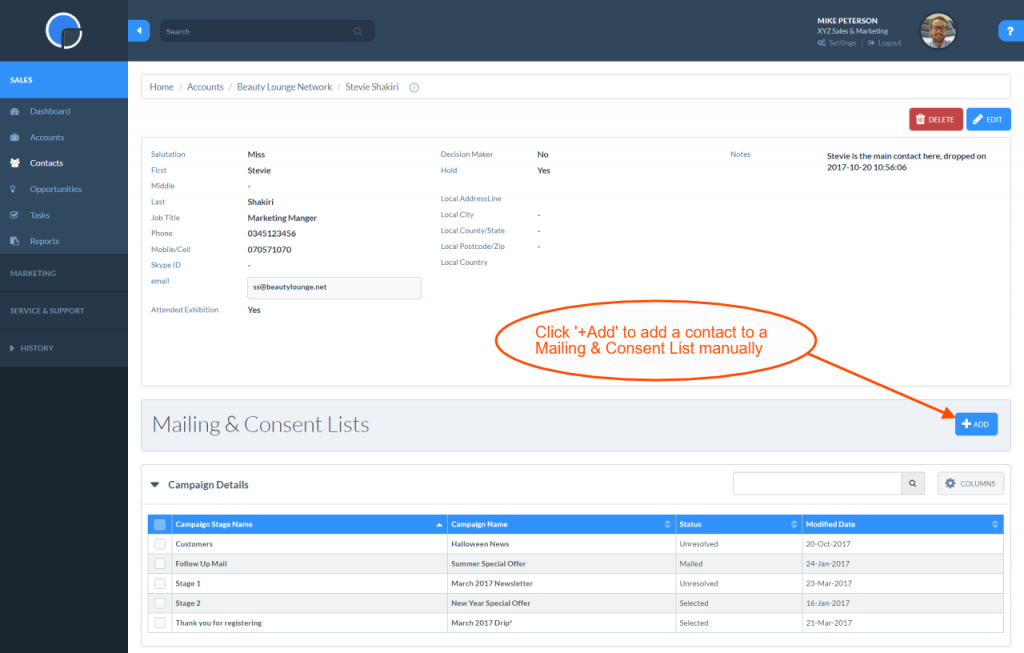 Select the List that the contact has consented to, the date of consent and description of the consent, e.g. Manual, Online Registration, then save.

Web-to-Lead Forms
Using the Advanced Marketing module's WebTransactions, you can generate leads from your web site and automatically capture them to your CRM. By adding a compliant checkbox to your registration form you can also use this feature to record consents to your marketing mailings.
To comply with GDPR, you will need to record "explicit consent" which means you cannot use a pre-ticked checkbox. It has to be an unticked box with an explanation of what will happen if you do tick the checkbox. For example: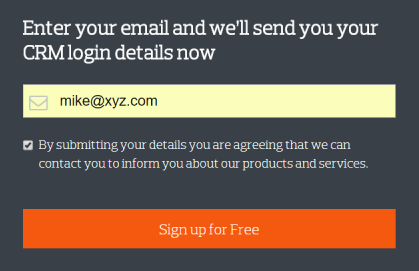 Contact Record
The Mailing Consent data will be added to your Contact's record.
Each record on the list shows how, when and where the contact gave consent to be mailed.

Click on the Name field to view and edit the contact's record, or on the Consent Date field to view and edit the consent record.

Create a Mailing Consent List
To create a new Mailing Consent List, in Settings / System Settings, open Mailing & Consent Lists. Click '+ Add' and give your list a name. Alternatively, you can use the default setting "Newsletter".

Next, if you are capturing consents from a web form, you'll need to create a WebTransaction for the list and embed the code in your web site landing page. You may need to get your web site developer to do this for you.
Our Customer Support Team will be able to help you set up the WebTransaction.
Custom Settings
You can add Custom Fields to your Mailing & Consent Lists. At present, this function can only be activated by our Support Team.
You can create the Custom Fields by going to Settings / System Settings, then Custom Fields. Set up the Custom Fields and any Custom Dropdown Lists you require, then contact our Support Team to add them to your Mailing & Consent Lists.