CRM integration with the other systems you use in your business will help increase the "user adoption" so you can Make the most of your CRM System.
You can integrate your CRM with your email, website, accounting system and other applications. To view your integration options go to Settings / Integrations.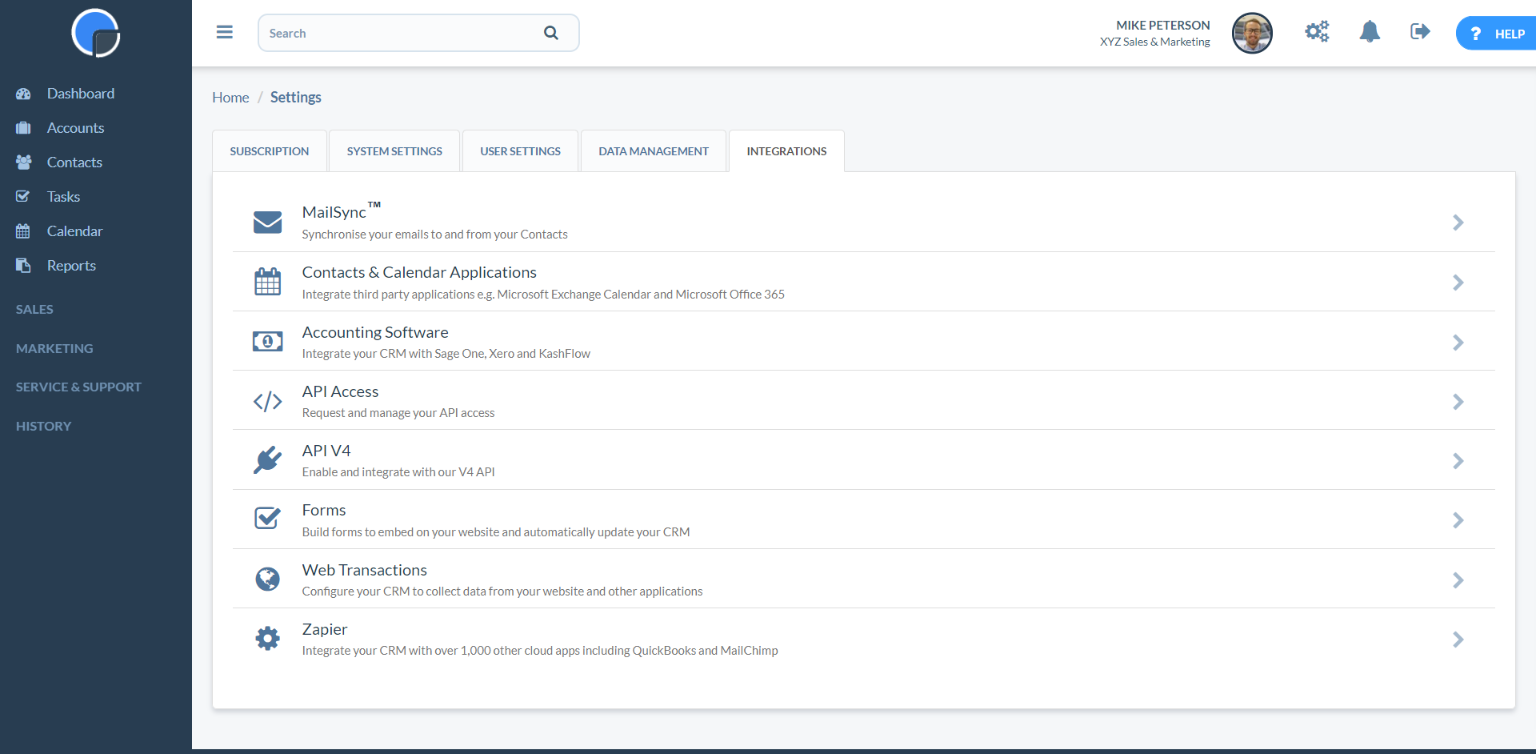 Email Integration
Our two-way email integration feature, MailSync™, allows your CRM system to automatically capture emails to and from your Contacts. Your CRM system automatically captures your incoming and outgoing emails and stores them in each customer's account activities, so you have a full record of all correspondence.
By communicating directly with your mail server, no local software needs to be installed and you can continue to use the email client(s) of your choice. MailSync can be used with Microsoft Outlook, Google Mail and most other email clients.
Contact and Calendar Integration
Your CRM can be integrated with your Microsoft 365 account to sync your Contacts, Calendars and Tasks across both apps. You can also sync your CRM Contacts with Google and your Calendar with Microsoft Exchange/Outlook365 to make them available both in Google applications and on your Android smartphone.
Accounting Software Integration
You can integrate your accounting software to view your sales, create invoices and see account balance information in your CRM. The Really Simple Systems CRM Add-on partners include Xero, SageOne and KashFlow.
CRM API
If you use other systems in your business, you can integrate your in-house applications to the CRM using our API (Application Program Interface). This means you can share data between your systems and streamline your business processes.
Zapier Integration
Our Zapier integration means you can connect other cloud-based systems to the CRM and pass data back and forwards between them. Zapier integrates with over 1,000 different apps including Google Contacts, MailChimp, Slack, Trello and Facebook.
Single Sign-on
Our Single Sign-on provider is OneLogin. OneLogin integration provides policy-based access control for Single Sign-on and Multi-Factor Authentication, available for Enterprise plan customers at no additional cost.
Capture Leads from your website
Web Transactions lets you capture leads and newsletter subscriptions from your web site. You can capture a new enquiry from your web site and create a Company Account with their Contact details in your CRM system. This subsquently creates an Activity, recording when the form was filled and a Task for one of your team to contact them.
You can also set up Drip Marketing campaigns that are triggered by the Contact completing your web site form. The system can automatically mail a thank you message, followed up by a series of emails at pre-defined intervals.
Web Forms
Web Forms lets you create forms on your website that automatically creates Web Transactions so you can capture leads and contacts directly from your web site to your CRM.