Opportunities are the sales deals that you hope to win.
Opportunities have a monetary value, a close date and a probability of success shown as a percentage. Once you have created an Opportunity it will appear in the widgets on your Sales Dashboard, for example in the sales funnel and the Opportunities and Forecast Summary table. Opportunities can also be reported on in your Sales Forecast Reports.
Create a new Opportunity
To create a new Opportunity, open the Company Account, scroll down to the Opportunities section and click the '+ Add' button.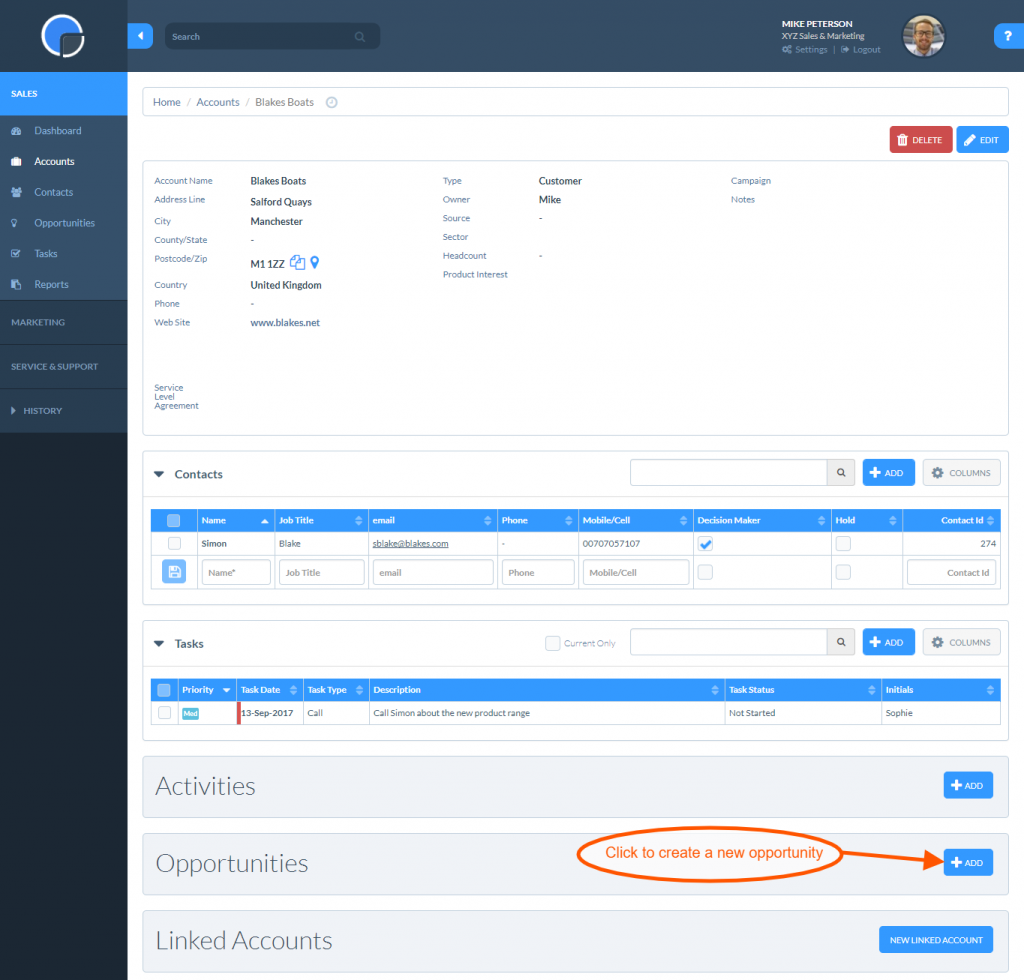 You can also add an Opportunity by clicking the '+ Add' button on the Opportunities summary table and then searching for the relevant customer account.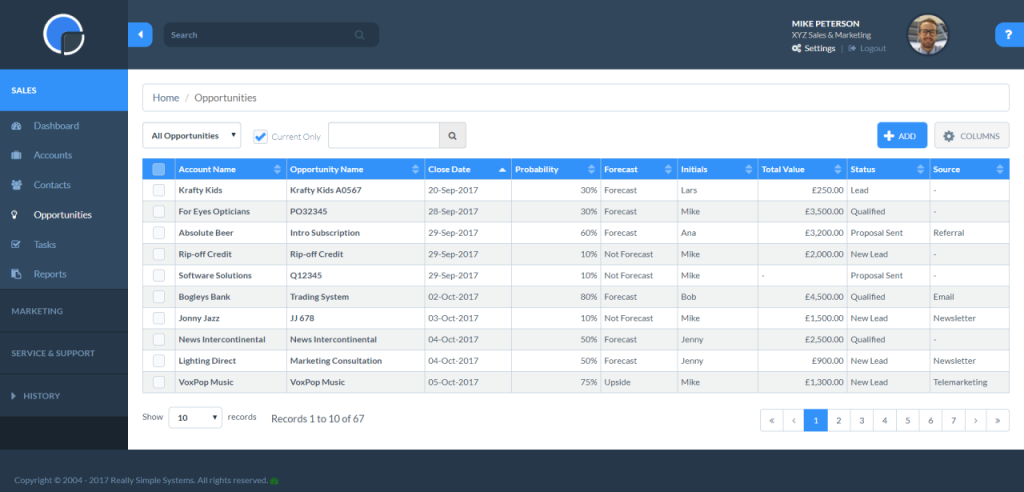 Complete the fields on the Opportunity form and save. By setting the Probability, and adding the sale value in the Opportunity Lines your opportunity will appear in the Sales Funnel and summary on your dashboard.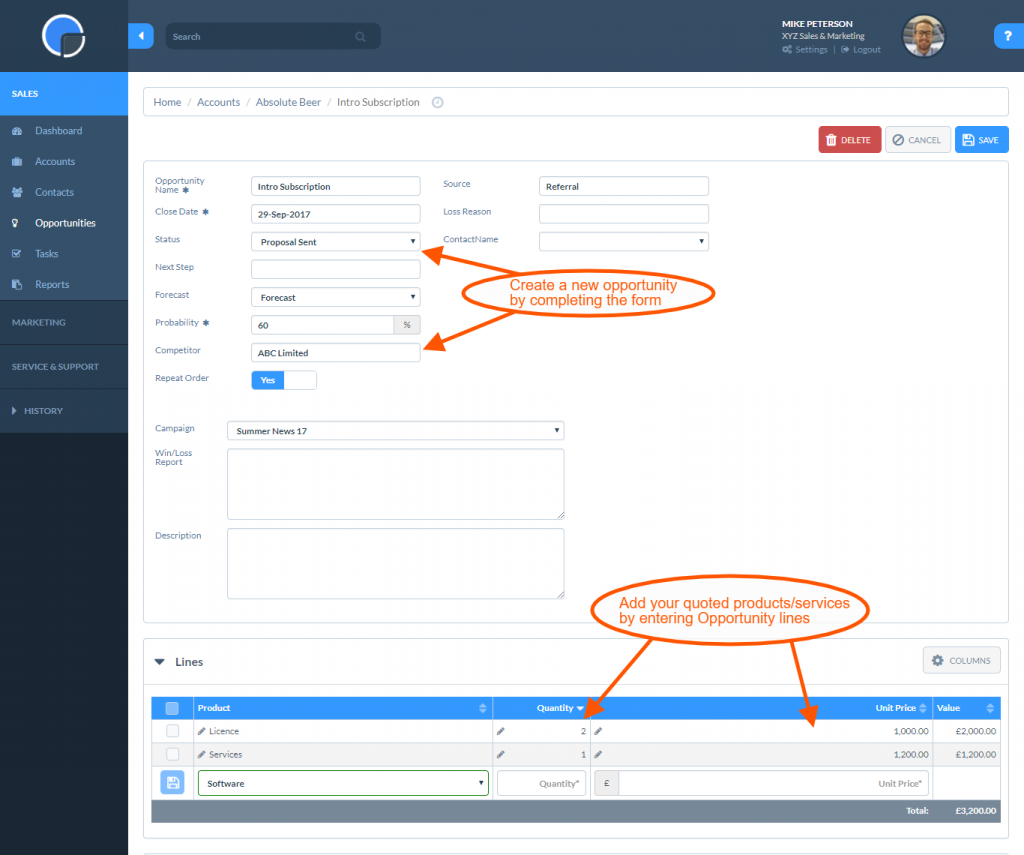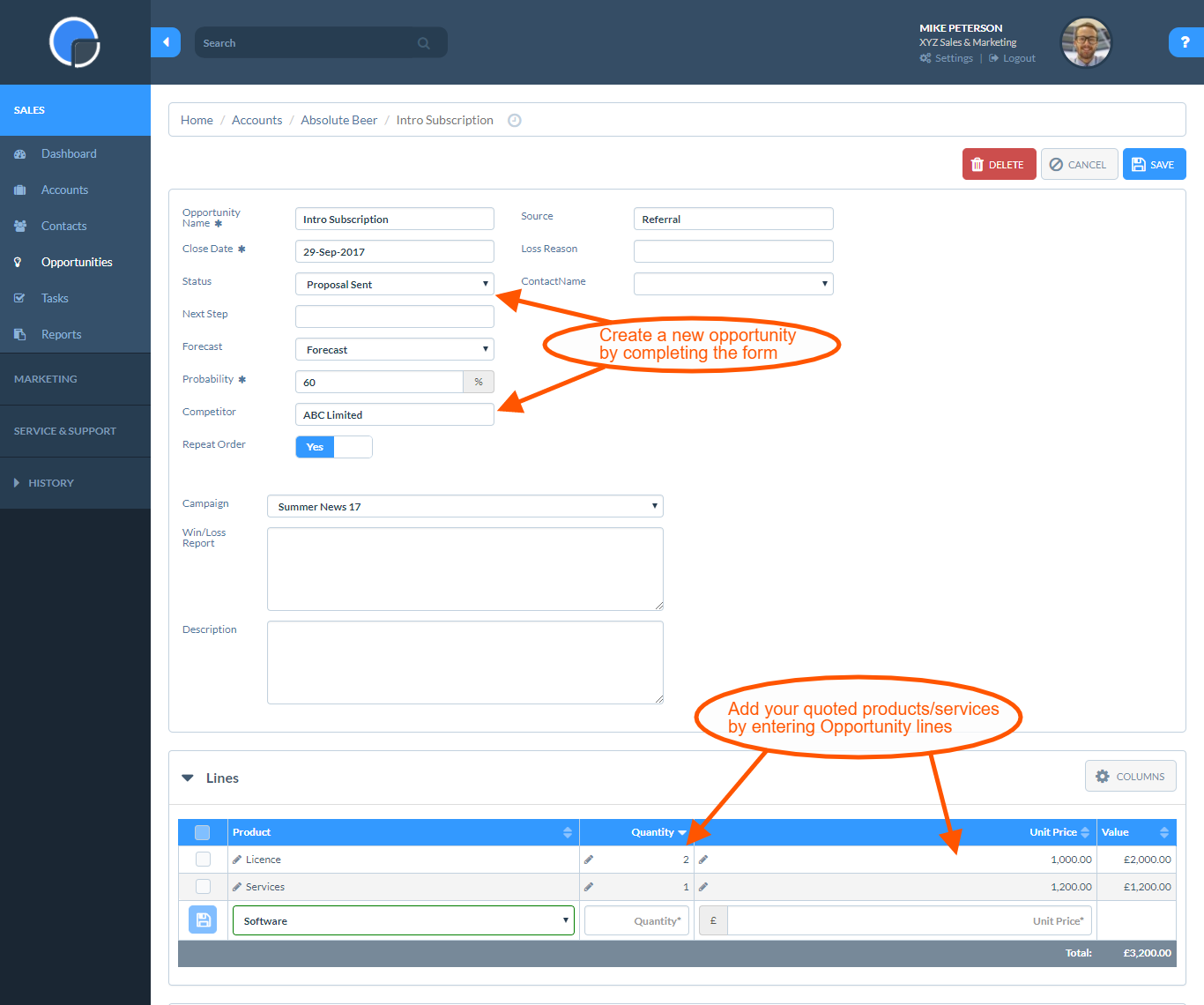 Fields on the Opportunity form:
Opportunity Name – what you want to call this Opportunity. It defaults to the name of the Account which is fine if it is the only Opportunity for the Account, but otherwise choose another name such as 'CRM Upgrade' or maybe an order number
Close Date – the date you think the Opportunity will close, i.e. be completed/won
Status – Your Sales Stage. You can customise your Sales Stages in the Dropdown Lists called 'OpportunityStatus'
Next Step – free text for you to enter what you have to do next e.g. set up a meeting
Forecast – you can choose whether or not to include this Opportunity in your Sales Forecast reports. This list can be changed by editing the 'OpportunityForecast' Dropdown Lists
Probability – the probablility is the percentage chance you think that this deal will close. You can edit this as your opportunity moves through the sales pipeline
Competitor – another free text field for you to add the name your main competitor, if known
Source – this will default to the Account Source (how the customer came to hear about you), but you can change it as you wish
Loss Reason – If you lose the deal, record why for future analysis. This is driven by the 'LossReason' Dropdown List
Description – a free format space to add some notes about this Opportunity
Win/Loss Report – more space to describe the deal after it is won or lost
Opportunity Lines
You can break the Opportunity down into multiple Lines, each with a Quantity, Product name and Unit Price. Saving the Opportunity will total the lines showing the overall value of the deal.

These can be top-level quotations or you can create lines for all your products by creating custom lines using Custom Dropdown Lists.