The Really Simple Systems CRM Sales module includes everything your sales team needs to manage your customers, prospects and sales.
Dashboard
Your Sales Dashboard gives you help in getting started with your CRM. Your dashboard includes a "to do" list that will help you get your CRM set up as well as links to videos and webinars.
You can customise your dashboard by selecting and de-selecting the various widgets. Select the ones you want to use so you can see all the data that's important to your business on one screen.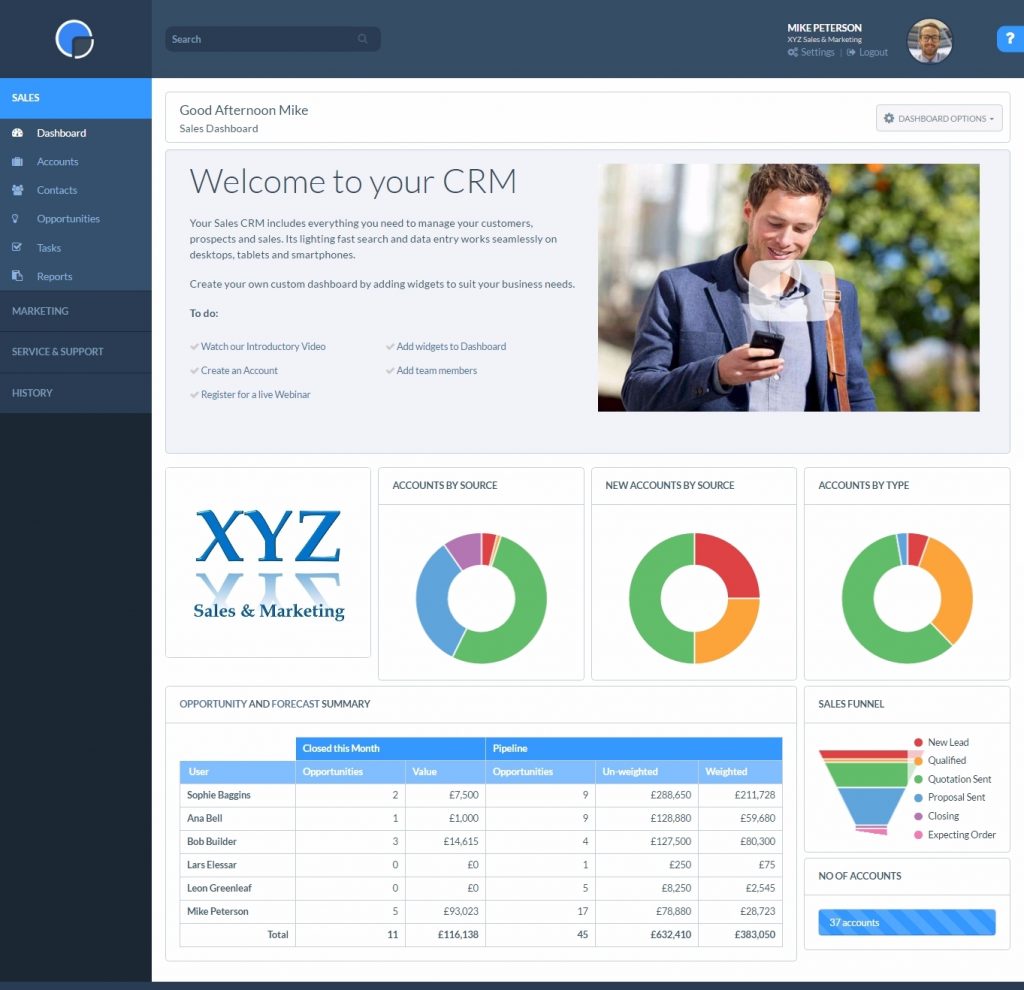 Account & Contact Management
Your CRM sales system is optimised for B2B (Business to Business) selling, with all the data for each company you're dealing with shown on one page. The whole Sales CRM system works in real time, so you'll always see the latest information and can pick up and assign tasks on the go. See Adding & Editing Accounts for further details.
Tasks and Activities
You can set up Tasks to remind you of outstanding actions against each Company Account, and assign them to your colleagues. You can record every telephone call, support request and meeting against the Account and automatically capture all incoming and outgoing emails to and from your Contacts. See Managing Tasks, Adding Activities & Events, and MailSync for more information.
Opportunities, Quotations and CRM Sales Pipeline
The CRM sales Opportunity Management section tracks all your potential sales and closed deals. This allows you to prioritise your sales effort and gives visibility of your sales pipeline. You can create Quotations from your Opportunities and send these directly to your customer from the CRM (Professional and Enterprise plans).
Customisation
You can easily add and remove fields from any record to customise your CRM to meet your business needs. You can create Custom Fields and Custom Dropdown Lists so you can easily find the data you need and report on your activities.
Reporting
There are two built-in report writers, giving you easy access to management information. The Forecast Report Writer is a dedicated report writer for running sales forecasts. The Listings Report Writer is great for quick ad-hoc reports, or standard reports that can saved.